A few months ago, I told you about "Hand aufs Herz", a German soap opera / telenovela that has quickly become one of my favourite TV shows, and not just because of a wonderful couple named Jemma or because I got to visit the set and meet some of the people involved in the making of the show. Unlike other soap operas or telenovelas, the storylines seem much more realistic, the acting and the writing is good, even excellent at times, and on top of that, there's music!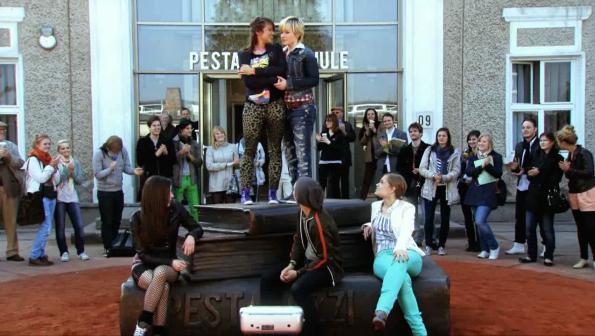 After a performance of the school's "glee club" STAG,
Emma and Jenny come out to their classmates – and the entire school
So you can imagine my disappointment when German TV channel Sat.1 announced that they cancelled the show after only season. But if you think that "HaHe" fans would just accept the media company's decision, you're wrong. Instead of whining and mourning, a lot of fans decided to fight. They wrote emails and letters, sent packages with oregano (loooong story), put together videos and much more. They even organized flashmobs, and not just in real life, but virtual!
Initiated by the ladies over at the Jemma fan website Jemma International and with contributions from all over the world, this virtual flashmob is witty and beautiful and moving and very impressive and thus does this wonderful show and the witty, beautiful and moving Jemma storyline credit.
So here it is. Enjoy!
Unfortunately, Sat.1 doesn't seem impressed by all of the love and devotion the fans showed for their favourite show, and it looks like the episode scheduled for September 5th will actually be the last one.