This German short movie about a bike courier by day / graffiti sprayer by night was released last week, and ladies, it looks a lot like you're going to love it!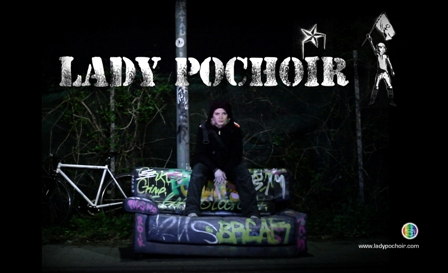 A sexy cocktail, a love letter to a city, feminist art to all – that's "Lady Pochoir".
The German short movie, which had its premiere last week in Cologne, tells the story of Yv (Nadine Rennack), a bike courier in Cologne. By night, she becomes Lady Pochoir ("Stencil") and wields stencils and spray paint to decorate the dreary walls of her city. When her tags catch the eye of an art publisher, the straight-laced careerist Lexy (Verena Zimmermann), sparks start to fly. Yv's life is about to become as big an adventure as her nighttime forays – if only she can stay one step ahead of Sascha (Vanessa Jung), the annoying policewoman who's taken more interest in her than is strictly needed…
Here's the trailer:
Want to see more? (Trust me, you DO want to see more!)
Here you go:
Sexy, isn't it? I for one can't wait to see the entire movie. Luckily, audiences both in Germany and the U.S. will get that chance soon, as the movie will be shown on the International Queer Film Festival (Lesbisch Schwule Filmtage) in October in Hamburg and the Chicago Lesbian & Gay International Film Festival in November.
Oh, and in case you know a little about German soap operas, or at least about "Verbotene Liebe", and are thinking that some of the faces look familiar to you: Verena Zimmermann is currently playing Nico von Lahnstein on "VL", and Vanessa Jung used to play Nico's half-sister Jana Brandner. Yes, it's a small world, and when it comes to actors and actresses in Cologne, it seems to be even smaller…
To get more information on the movie, the cast and the crew you should check out the movie's official homepage and/or facebook page.