On this week's episode of the German TV show "Mord mit Aussicht", policewoman Bärbel fell head over heels in love with the charming Mathilde, and was suddenly faced with the question: Am I gay?
Bärbel's (Meike Droste) life is suddenly turned upside down

"Mord mit Aussicht" ("Murder with a View") is a German crime/comedy series that's currently in its second season on German TV network ARD. Its main character is Sophie Haas, a big city police detective who doesn't always play by the rules. Sophie had hoped to be promoted to head of the homicide division in her hometown of Cologne, but instead, her superiors transfer her to Hengasch, a small village in the German countryside, where she is supposed to run the local police station. Disappointed and frustrated at first, Sophie soon realizes that not everyone in Hengasch is as harmless and boring as it seems, and she and her new colleagues soon have to solve one mysterious case after another.
One of Sophie's new colleagues is Bärbel, a young and ambitious policewoman. Bärbel has spent her whole life in Hengasch, she knows everyone and everything in the area, and everyone knows her. When Sophie becomes her new boss, Bärbel is skeptical at first, but she soon starts to enjoy that – thanks to Sophie – she finally gets to do some real police work. Unlike her colleague Dietmar, who has been married to his wife Heike for 17 years, and Sophie, who is dating the local vet, Bärbel is still single and hasn't really been in love before – until she meets Mathilde.
When Bärbel is in the village shop one morning, she's observing a shop theft – or so she thinks. The suspect is not only innocent, but turns out to be a charming young woman named Mathilde (Alwara Höfels), a carpenter "auf der Walz" ("on the waltz" or journeywoman).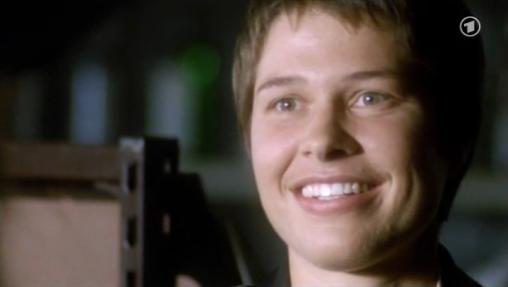 Bärbel and Mathilde hit it off immediately, and when she and Sophie run into Mathilde again later that day while investigating their current case, Bärbel is delighted. Sophie not so much, because for the rest of the day, Bärbel is absent-minded and busy writing text messages instead of taking part in the investigation.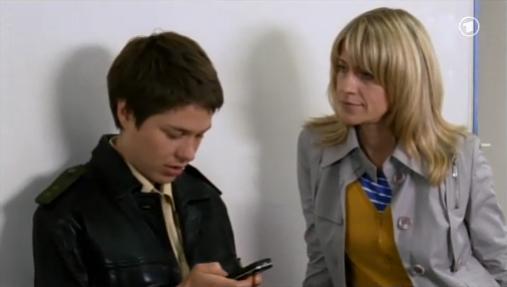 Sophie (Caroline Peters) wants to know what's going on with Bärbel
When Bärbel and Mathilde later meet, Bärbel is once again swept off her feet by Mathilde's charm – so much so that she suddenly finds herself making out with her.