After last year's "Callica" debacle, the producers of Grey's Anatomy make amends by providing us with a lesbian couple and a storyline that is worth watching.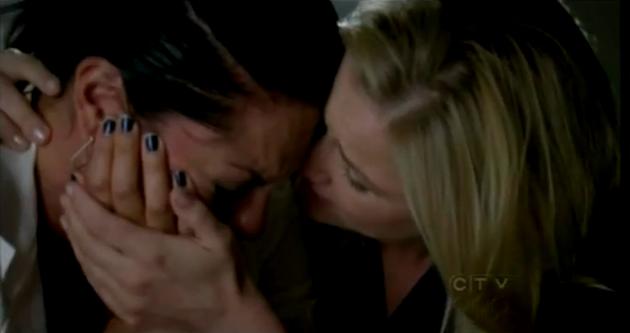 Arizona (Jessica Capshaw, right) is trying to comfort Callie (Sara Ramirez) after a fight with her father

Last year, the producers of Grey's Anatomy seriously annoyed fans of the lesbian couple "Callica" (aka Callie Torres and Erica Hahn) when they all of a sudden and without warning decided to end the storyline, let Erica break up with Callie and walk off into the night in the direction of the hospital's parking lot to never be seen again. Even though the series' creator Shonda Rhimes promised that the end of "Callica" did not mean that Callie would stop dating women, fans were skeptical, and a lot of them stopped watching the show.
Which is too bad, because it looks like the producers are working hard to keep Shonda Rhimes' promise. Only a few episdoes after Erica disappeared on the parking lot of no return, they introduced a new lesbian character: pediatric surgeon Arizona Robbins, played by Jessica Capshaw ("Bones", "The L Word").
Arizona introduced herself to Callie by kissing her in the women's room of a bar, only to later tell her that she could not date her because Callie was still a "newborn" when it came to dating women. Luckily, she changed her mind, and they have been dating ever since. The audience even got to see them in bed together – naked and apparently after they had sex.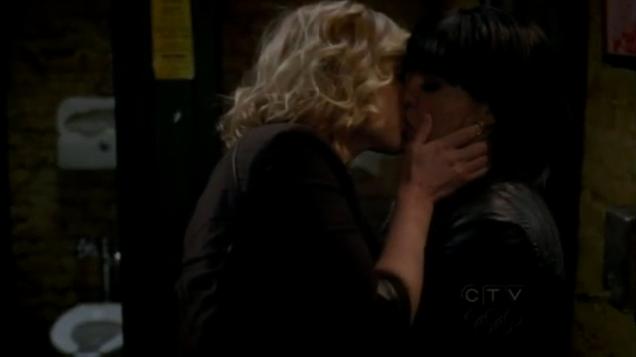 A few weeks ago, the new season of Grey's Anatomy started in the U.S., and Callie and Arizona are still an item. The producers even went so far as to make Jesscia Capshaw a regular cast member and thereby her character one of the very few lesbian characters on American prime time TV. But there has also been criticism about the lack of intimacy between them – in the first few episodes, they were never shown kissing and only barely touched each other, let alone anything else.
On the plus side, what the audience does get to see is a growing commitment on both sides, and a relationship that is based on trust, understanding and care for each other. The level-headed, experienced Arizona regularly calls Callie out on her impusive, sometimes irrational outbursts, but there are also moments when Arizona is vulnerable and insecure and turns to Callie for help.
The dynamic of the relationship can best be seen in the episode "Invasion", which aired the week before last. Callie's father comes to Seattle, bringing along the family's priest in the hope that he can convince his daughter to go back to dating men. Callie refuses to talk to him, telling him that he "can't pray away the gay", but Arizona makes her see where her father is coming from and convinces Callie to "cut him some slack".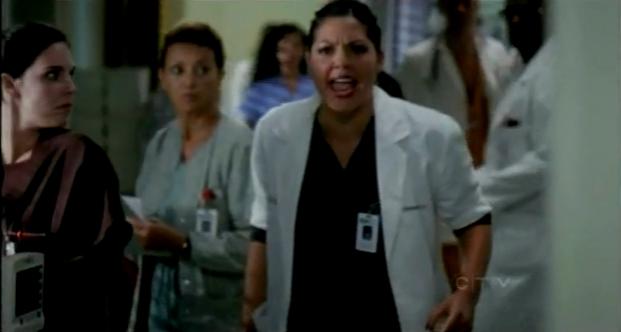 When the meeting of father and daughter ends in a disaster, leaving Callie crying in Arizona's arms, it is Arizona who manages to convince Callie's father that Callie is still the same, even though she now loves a woman, by telling him about her own family and about Callie and why she, Arizona, cares for her so much: "I love your daughter. And I protect the things I love. Not that I need to. She doesn't need it. She's strong and caring and honorable. And she is who you raised her to be."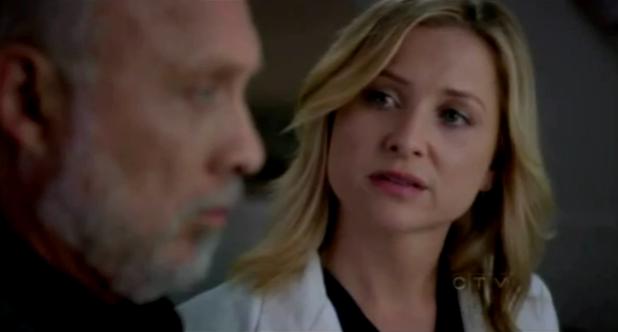 Arizona (Jessica Capshaw) talks to Callie's father (Hector Elizondo)
A great episode with a very powerful message and amazing acting on all sides. Let's just hope that Arizona and/or Callie manage to stay away from the parking lot of no return long enough to keep Callie's promise to her father to "give her mother a wedding".
Compliations of Callie & Arizona scenes of previous episodes can be found on this YouTube channel.
Pictures: ABC